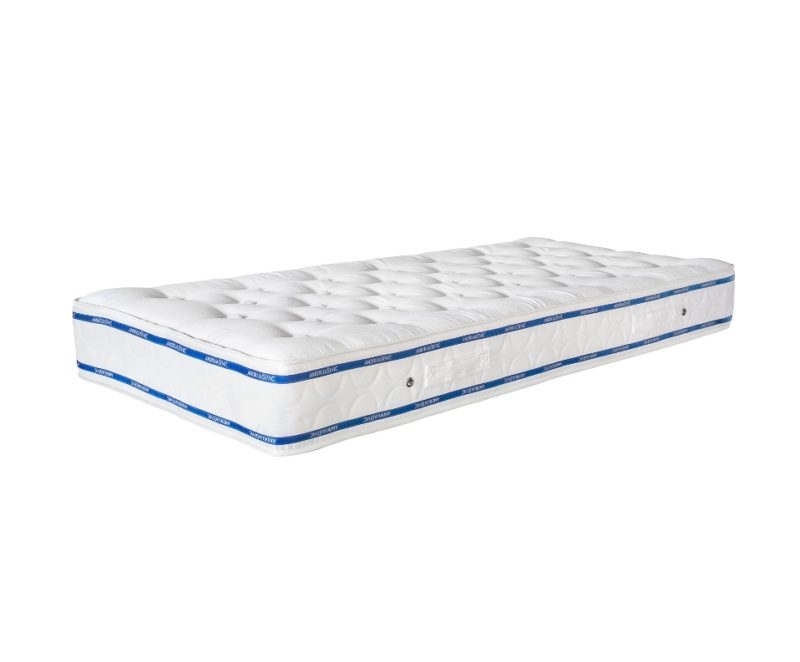 Madrac ORTOPEDICO
Opis i karakteristike:
Je dušek koji je namijenjen za ljude veće tijelesne težine i one koji imaju problema sa kičmom, kao i za ljude koji preferiraju tvrđu podlogu za spavanje. Dušek je dizajniran da podrži leđa, zglobove i mišiće skeleta i tijela kao cijeline. Ispravan položaj tijela na ovom dušeku vam garantuje potpuno opuštanje. Ovo je najbolji u klasi dušeka sa opružnim jezgrom, a nastao je na temelju praćenja zahteva na tržištu za posebno tvrdim dušekom. Opružno jezgro je obostrano ojačano s metalnim ramom što izrazito povećava čvrstoću. Za razliku od De Lux-a on ima dvostruke slojeve prirodnih materijala za zimskoj i letnjoj strani koji pružaju maksimalnu udobnost. Na bočnim stranama po dužini se nalaze po dva ventila koji služe za cirkulaciju vazduha unutar samog dušeka.
Osnova :
Žičano opružno jezgro je tipa BONNELL sa gusto raspoređenim oprugama prečnika 2,2 mm i visine 14 cm, oivičeno metalnim ramom, koje ovom dušeku daju i čvrstoću. Za jezgro je priheftan termofiksirani filc 1000 g/m2 koji štiti štepanu ploču od oštećenja i daje joj bolju čvrstoću.
Punjenje:
Poliuretan 25kg/m3 – 3cm
Pamuk 2 x 800g/m2 (letnja strana)
Vuna 2 x 800g/m2 (zimska strana)
Navlaka:
Platno – pamučna tkanina i PES
Veličine:
60×120; 65×135; 70×130/140
80/90/100/120/140/150/160/180 x 190/200
Pravimo vanstandardne veličine dušeka prema želji kupca
Visina:
Cca 24cm
Garancija:
Za žičano opružno jezgro 5 godina
Za dušek 36meseca
Informations
Shipping
We currently offer free shipping worldwide on all orders over $100.
Sizing
Fits true to size. Do you need size advice?
Return & exchange
If you are not satisfied with your purchase you can return it to us within 14 days for an exchange or refund. More info.
Assistance
Contact us on (+44) 555 88 65, or email us at support@reytheme.com.
All dining chairs are characterized by quality,
design and comfort.